Venango Township is home to 962 residents that chose to live in the 16.91 square miles located between Edinboro to the north, Cambridge Springs to the east and Venango Borough to the south.  The rural area is comprised mostly of dirt and gravel roadways maintained bythe Township with a few blacktop roads including Plank Road, Route 19, Blystone Road and Gospel Hill Road which are maintained by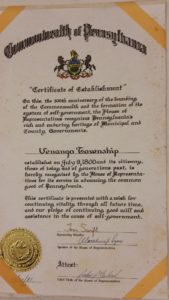 PennDOT.  There are no public sewer or pubic water facilities provided by an authority as all properties make use of on lot septic systems and private wells.
Venango Township was originally established on July 9, 1800 and is a local municipality located in Crawford County.